Check out what's been going on!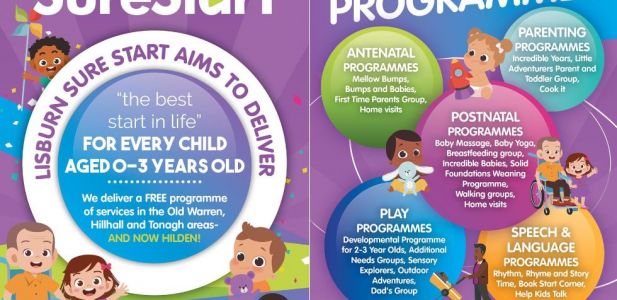 Lisburn Sure Start
Lisburn Sure Start aims to deliver "the best start in life" for every child living within the Old Warren Ward, Tonagh Ward and Hillhall. We have also received funding to now expand in to the Hilden area!
We offer a free programme of services for all families with a child aged 0-3, as well as for Mums and Dads to be, who live in the above areas. Use our postcode checker below to see if you live in the Sure Start area.
Depending on your preference- our services can be offered in your own home or at one of our venues located within Old Warren, Hillhall, Hilden and Tonagh. Families are free to attend programmes in any of our four venues. We have programmes such as sensory play, cooking programmes, baby massage, toddler swim, speech and language and family support. There is more information under the "Programmes" section of our website.
Postcode Checker
Type your postcode in to see if you live within the Lisburn Sure Start catchment area. If you are in our area, you can request to register with us to attend programmes.
To register with us just go to the "Contact Us" tab on the website and click "Register with us". A member of Staff will then be in touch to organise a registration visit and answer any questions you may have.

If your postcode doesn't fall within the Sure Start area- there are a range of other services that cover the Lisburn area including:
Home Start: https://homestartlisburn.org.uk
Barnardos: https://www.barnardos.org.uk/what-we-do/services/parent-infant-project
Atlas: http://www.atlaswomenscentre.co.uk
Resurgam Trust: https://www.resurgamtrust.co.uk
Or type your postcode in to the Family Support NI website to see what else is available: https://www.familysupportni.gov.uk
ANTRIM STREET BT28 1AU
ANTRIM STREET BT28 1AU
Ashmount Gardens BT27 5BZ, BT27 5DA, BT27 5DB
Ashmount Park BT27 5DG
Avonmore Park BT28 1NA
Avonmore Park BT28 1ND
Avonmore Park BT28 1NE
Avonmore Park BT28 1NJ
Avonmore Terrace BT28 1SF
 HAWTREE PARK BT28 1PW
BACHELORS WALK BT28 1XJ
BACHELORS WALK BT28 1XN
BALLINDERRY COURT BT28 1SS
BALLINDERRY CRESCENT BT28 1UE
BALLINDERRY GARDENS BT28 1SR
BALLINDERRY PARK BT28 1ST
BALLINDERRY ROAD BT28 1TB
BALLINDERRY ROAD BT28 1UD
BALLINDERRY ROAD BT28 1UE
BALLINDERRY ROAD BT28 1UF
BALLINDERRY ROAD BT28 1UG
BALLYCREEN DRIVE BT28 1SU
BALLYKNOCKEN AVENUE BT28 1SG
BALLYKNOCKEN PARK BT28 1SH
BARBOUR LODGE BT27 4TX
BARBOUR LODGE BT27 4UF
BARLEY HILL BT27 4YB
BARRACK STREET BT28 1TJ
BEGNEY WALK BT28 1SB
BELFAST ROAD BT27 4TL
BELVOIR CRESCENT BT28 1UA
BELVOIR MEWS BT28 1FR
BELVOIR PARK BT28 1TZ
Blaris Park BT28 1NQ
Blaris Walk BT28 1NB
BON ACCORD TERRACE BT28 1TL
BOW STREET BT28 1AL
BOW STREET BT28 1AW
BOW STREET BT28 1AW
BOW STREET BT28 1BB
BOW STREET BT28 1BJ
BOW STREET BT28 1BN
BOW STREET BT28 1BN
BOW STREET BT28 1BW
BOW STREET BT28 1DR
BOW STREET BT28 1EL
BOW STREET BT28 1YS
BRIDGE STREET BT28 1XY
BRIDGE STREET BT28 1XZ
BROOKVALE RISE BT28 1DE
Canal Street BT27 5AD
CARNTOGHER ROAD BT28 1DL
CASTLE STREET BT27 4DH
CASTLE STREET BT27 4SP
CASTLE STREET BT27 4SR
CASTLE STREET BT27 4SU
CASTLE STREET BT27 4XD
CASTLE STREET BT27 4XE
CAUSEWAY END ROAD BT28 1UB
CAUSEWAY END ROAD BT28 1UJ
CHAPEL HILL BT28 1BW
CHAPEL HILL BT28 1EP
CHURCH LANE BT28 1DA
CHURCH LANE BT28 2TT
COLLEGE SQUARE BT27 4RE
CONWAY STREET BT27 4AD
COULSON AVENUE BT28 1YJ
CRAIG CRESCENT BT28 1HB
CRAIG GARDENS BT28 1HJ
CRAIGMORE ROAD BT28 1DN
CREEVE PLACE BT28 1UT
CROMMELIN PLACE BT28 1YL
Cromwell Close BT27 5DL
Cromwells Highway BT27 5DH
CROSSAN COURT BT28 1TU
CROSSAN WALK BT28 1NZ
CROSSAN WALK BT28 1PE
CURTIS WALK BT28 1HE
DELACHEROIS AVENUE BT27 4TR
DELACHEROIS AVENUE BT27 4UA
DERRIN PLACE BT28 1DT
DIVIS WAY BT28 1DP
DONARD DRIVE BT28 1UP
DONARD DRIVE BT28 1UU
DROMARA PARK BT28 1PX
DROMARA PARK BT28 1PY
DRUMBEG COURT BT28 1QH
DRUMBEG DRIVE BT28 1NY
DRUMBEG DRIVE BT28 1PA
DRUMBEG DRIVE BT28 1PD
DRUMBEG DRIVE BT28 1QJ
DRUMBEG DRIVE BT28 1QL
DRUMBEG DRIVE BT28 1QP
DRUMBEG DRIVE BT28 1QR
DUNDROD COURT BT28 1NF
DUNDROD DRIVE BT28 1PT
DUNDROD WALK BT28 1PU
EAGLE TERRACE BT27 4TH
EAST DOWN VIEW BT27 4UW
GARVEY MEWS BT28 1BS
GARVEY TERRACE BT27 4TW
GLEBE COURT BT28 1QZ
GLEBE WALK BT28 1PZ
GLEBE WALK BT28 1QA
GLENAVY GARDENS BT28 1PB
GLENAVY MEWS BT28 1NT
GRAHAM GARDENS BT28 1XE
GRAND STREET BT27 4TX
GRAND STREET BT27 4UD
GRAND STREET BT27 4UE
Gregg Street BT27 5AR
Gregg Street Mews BT27 5AR
GROVE STREET BT27 4YQ
GROVEHILL AVENUE BT27 4YG
HALFPENNY SQUARE BT28 1TA
Hancock Street BT27 5AB
HASLEMS LANE BT28 1TW
HAZELDENE COURT BT28 1FP
HAZELDENE PARK BT28 1UQ
HERTFORD CRESCENT BT28 1SA
HERTFORD CRESCENT BT28 1SP
HERTFORD CRESCENT BT28 1SQ
HERTFORD CRESCENT BT28 1SY
HERTFORD SQUARE BT28 1SX
HILDEN MEWS BT27 4DB
HILDEN PARK BT27 4UG
HILL STREET BT28 1YE
HILL STREET BT28 1YF
Hillhall Close BT27 5DX
Hillhall Gardens BT27 5DD
Hillhall Park BT27 5DE, BT27 5DF
Hillhall Road (BT27 5BU, BT27 5BX only)
HILLSBOROUGH ROAD BT28 1JL
HUGUENOT DRIVE BT27 4UH
HUGUENOT DRIVE BT27 4UJ
HUGUENOT DRIVE BT27 4UN
HUGUENOT DRIVE BT27 4YD
HUGUENOT DRIVE BT27 4YE
IVAN STREET BT28 1YN
JEREMY WALK BT28 1HD
JUBILEE AVENUE BT28 1EB
JUBILEE PLACE BT28 1ED
KILLANEY AVENUE BT28 1QS
KILLANEY AVENUE BT28 1QT
KILLANEY AVENUE BT28 1QU
KILLANEY COURT BT28 1QW
KNOCKAGH ROAD BT28 1UR
KNOCKMORE SQUARE BT28 1SZ
Lagan Mews BT28 1UY
LAGAN VIEW BT28 1YQ
Lagan Walk BT28 1NL
Lagan Walk BT28 1NN
Lagan Walk BT28 1NP
Lagan Walk BT28 1NW
LAGANBANK ROAD BT27 4TQ
LAGANBANK ROAD BT27 5FH
LAWNBROOK DRIVE BT27 4UB
LAWNMOUNT CRESCENT BT27 4TT
LAWNMOUNT CRESCENT BT27 4TU
LEAMINGTON PLACE BT27 4UL
LIMEHURST WAY BT27 4YF
LINENHALL STREET BT28 1AA
LINENHALL STREET BT28 1FJ
LINENHALL STREET BT28 1LU
LISBURN SQUARE BT28 1TS
LISNOE WALK BT28 1QB
LISNOE WALK BT28 1QD
LISSUE COURT BT28 1NX
LISSUE CRESCENT BT28 1QE
LISSUE CRESCENT BT28 1QF
LONGSTONE STREET BT28 1ET
LONGSTONE STREET BT28 1TP
LONGSTONE STREET BT28 1TR
LONGSTONE STREET BT28 1TT
LONGSTONE STREET BT28 1TY
LOW ROAD BT27 4TJ
LOW ROAD BT27 4TN
MAGHERALAVE ROAD BT28 3BE
Mandeville Avenue BT27 5AL
MANOR PARK BT28 1EU
MANOR PARK BT28 1EY
MANOR PARK BT28 1EZ
MARALIN AVENUE BT28 1PF
MARALIN AVENUE BT28 1PH
MARALIN AVENUE BT28 1PJ
MARALIN MEWS BT28 1NU
MARKET LANE BT28 1YG
MARKET PLACE BT28 1AN
MARKET SQUARE BT28 1AE
MARKET SQUARE BT28 1AG
MARKET SQUARE EAST BT28 1AE
MARKET SQUARE NORTH BT28 1AF
MARKET SQUARE NORTH BT28 1AG
MARKET SQUARE SOUTH BT28 1AD
MARKET STREET BT28 1AB
MAZE PARK BT28 1PG
MAZE PARK BT28 1PQ
MCKEOWN STREET BT28 1BD
Meeting House Lane BT27 5BY
Mercer Court BT27 5AT
Mercer Street BT27 5AJ
MILLBROOK ROAD BT27 4XN
MILLBROOK WALK BT27 4XS
MOIRA PARK BT28 1SJ
MOIRA ROAD BT28 1RB
MOIRA ROAD BT28 1RH
MOIRA ROAD BT28 1RJ
MOIRA ROAD BT28 1RR
NEW STREET BT27 4TZ
NICHOLSON GARDENS BT28 1YW
PARKVIEW BT27 4XY
Plantation Drive BT27 5BJ
QUEENS ROAD BT27 4TZ
QUEENS ROAD BT27 4XE
RAILWAY STREET BT28 1XG
RAILWAY STREET BT28 1XP
RAILWAY STREET BT28 1XW
Ravarnet Walk BT28 1NG
RIDGEWAY STREET BT28 1BY
RIDGEWAY STREET BT28 1BZ
ROSEVILLE GARDENS BT27 4XX
ROSEVILLE PARK BT27 4XT
ROSEVILLE PARK BT27 4XU
ROSEVILLE WALK BT27 4YA
ROSSLYN PARK BT28 1UH
SACKVILLE STREET BT27 4AB
Saintfield Park BT27 5BG
Saintfield Road BT27 5BA, BT27 5BH only
SAWEL PLACE BT28 1DS
SEYMOUR COURT BT27 4SN
Seymour Park BT27 5BQ
SEYMOUR STREET BT27 4SQ
SEYMOUR STREET BT27 4SX
SEYMOUR STREET BT27 4SY
SEYMOUR STREET BT27 4SZ
SEYMOUR STREET BT27 4XF
SEYMOUR STREET BT27 4XG
SLEMISH WAY BT28 1UL
Sloan Street BT27 5AG & BT27 5AF
SMITHFIELD BT28 1TH
SMITHFIELD STREET BT28 1TH
SMITHFIELD STREET BT28 1TL
SPRUCE STREET BT27 4UP
ST PAULS COURT BT28 1TX
Stannus Place BT27 5AP
STRATHEARNE PLACE BT27 4TS
TARDREE PLACE BT28 1UW
TAYLOR SQUARE BT28 1HA
THE GREEN BT28 1DU
THE GREEN BT28 1DX
TIROWEN CRESCENT BT28 1RG
TIROWEN DRIVE BT28 1RX
TIROWEN DRIVE BT28 1RY
TIROWEN DRIVE BT28 1SD
TIROWEN DRIVE BT28 1SL
TIROWEN PARK BT28 1WD
TIROWEN WAY BT28 1SE
TONAGH AVENUE BT28 1DQ
TONAGH AVENUE BT28 1DW
TONAGH DRIVE BT28 1DY
TONAGH GARDENS BT28 1BX
TONAGH MEWS BT28 1DZ
TONAGH PARK BT28 1DJ
TRINITY TERRACE BT28 1DG
TROSTAN PLACE BT28 1UN
VICTORIA CRESCENT BT27 4TF
VICTORIA CRESCENT BT27 4TG
VICTORY STREET BT27 4TP
WALLACE AVENUE BT27 4AA
WALLACE AVENUE BT27 4AE
WALLACE AVENUE BT27 4EJ
WALLACE STUDIOS BT27 4AE
WARD AVENUE BT28 1EF
WARDSBOROUGH ROAD BT28 1XF
Warren Close BT28 1HZ
WARREN GARDEN MEWS  BT28 1GY
WARREN GARDENS BT28 1EA
WARREN GARDENS BT28 1HL
WARREN GARDENS BT28 1HN
WARREN GARDENS BT28 1HW
Warren Gardens BT28 1LJ
Warren Gardens Mews BT28 1GY
Warren Grove BT28 1JG
WARREN MOUNT BT28 1HP
Warren Park Drive BT28 1HF
WARREN PARK GARDENS BT28 1HH
WATERSIDE BT28 1YH
WESLEY STREET BT27 4TB
WILSON STREET BT27 4XZ
WINDSOR AVENUE BT28 1EE
LaganView Enterprise Centre 69 Drumbeg Drive Lisburn BT28 1QJ | Phone: 02892 672 292 (Office)